M12 (1/2") Hollo Bolts
***Please allow up to 1 week to ship***
For more information visit our Hollo-Bolt page HERE
For more sizes, styles, finishes, or large quantities please call or email us!
Type HB - SELECT A LENGTH AND FINISH

Bolt
Size
Metric
(US Equiv)
Product
Code
Clamping Range

Combined Material
Thickness (W)
Across
Flats
Main
Body
Tightening
Torque
(ft lb)
Safe Working Load*
(5:1 Factor of Safety)
Min
Max
Tensile
(lb)
Shear
(lbs)
M12 (1/2")
BA-LHBM12-1-EG (1/2" x 2-3/8")
1/8"
1"
1-3/16"
59
2360
3372

BA-LHBM12-2-EG (1/2" x 3-5/32")

1"
1-13/16"
BA-LHBM12-3-EG (1/2" x 4-1/4")
1-13/16"
2-3/4"
Hole Preparation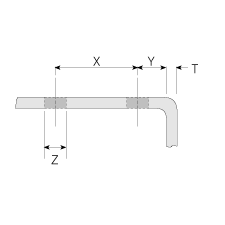 Some care must be taken both in preparation of the drilled hole for the product and in the location of the hole with regard to the structural tube section. The table below gives guidelines for:

(X) - minimum distance between hole centers for neighboring Hollo-Bolt®s,
(Y) - minimum distance of hole center from inside wall of hollow section steel
(Z) - drill size to be used .

The diagram illustrates these dimensions.

 

Hollo-Bolt® Hole Preparation
Product Code 
X (Min)
 Y(Min)
Z Hole Size 
Minimum Edge
Distance = (Y + T)
BA-LHBM12
2"
3/4"
13/16"
1"
---
We Also Recommend